Mainstage Festivals, the organizers of the electronic music festival Kala, have announced their full lineup for 2021. The gathering will take place from September 1st-8th, 2021 in Dhërmi close to Saranda, Albania.
From its beginnings in 2018, Albania's first-ever international music festival will see its third edition in 2021. Across five different stages, guests can enjoy a lineup consisting of house, soul, and funk artists. The beach forest stage, Gjipe, is only accessible by boat and tickets are sold separately.
The bill includes DJ sets by DJ Flight, Palms Trax, Skee Mask, and Shanti Celeste & Peach, among others. Additionally, there will be live performances by 808 State, Jocelyn Brown, Yu Su, and many more.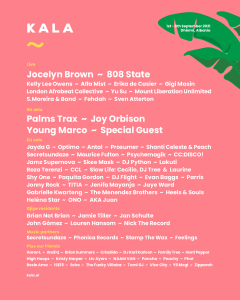 To match with Albania's vaccine rollout plan, Mainstage moved the initial date from June to September 2021 in order to ensure that all guests get their shots by July as intended by the government. The organizer has also announced a wellness festival called Inner State at the same location from September 15th-22nd.
Mainstage specializes "in delivering music events in unique locations" and Kala looks to be no exception. Honorable mentions amongst their other gatherings include Snowboxx, a 5,000-person festival in the French Alps, and its southern counterpart, Snowboxx New Zealand.