The 2019 debut of Riyadh festival MDL Beast drew significant backlash for having been funded by the government of Saudi Arabia, a regime associated with a long history of human rights grievances. One might expect performing artists to shy away from future editions of the event – but the first phase lineup of its 2021 event suggests the opposite is true.
MDL Beast Soundstorm, as this year's edition is billed, takes place from December 16th-19th and has swelled to include over 50 artists in its first headliner announcement. Returning are EDM superstars like Martin Garrix, David Guetta and Tiësto in addition to local talent such as Cosmicat, Dish Dash and Vinyl Mode.
The festival has noticeably expanded its techno and house offerings as well. The first phase announcement alone features Adam Beyer, Carl Cox, Charlotte de Witte, Eric Prydz, Amelie Lens, Dubfire, Sven Väth and Paul Kalkbrenner among numerous others.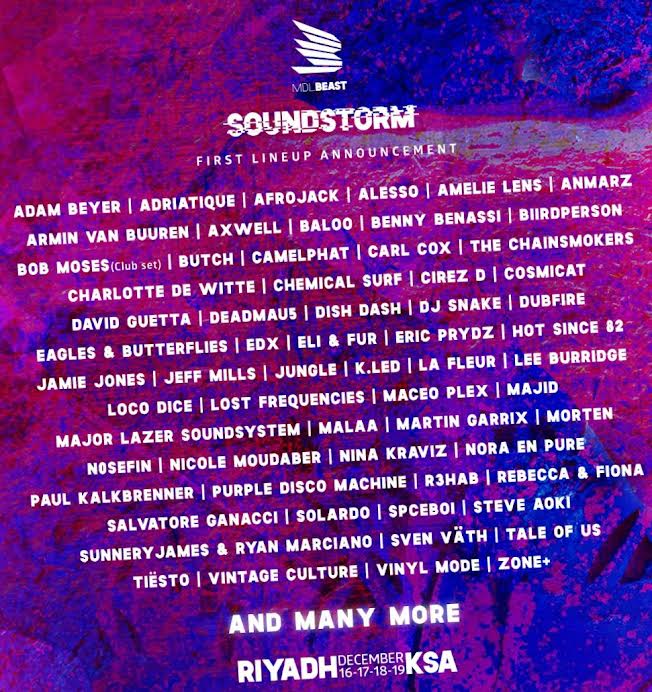 Incidentally, it is the house and techno fandom that has levied the most criticism of out-of-town artists performing at this year's event.
Berlin-based CTM Festival curator Michail Stangl started the conversation on Twitter. "Sure there is no objective morality and all, but if you like money so much that you take it from a government that kills journalists and has the death penalty for being gay, you really should ask yourself some serious questions," he wrote.
Expected this from many of the people on this list, but its actually really crazy to see some other names here from whom I strangely enough expected better. Much better.

— Michail / opiumhum.eth 🏳️‍🌈🥲Ⓥ (@opiumhum) November 16, 2021
A number of social media commentators expressed shock that Detroit techno figurehead Jeff Mills would involve himself with an event such as MDL Beast (pronounced "middle beast"). The DJ, producer and Underground Resistance cofounder played no trivial role in the social justice side of electronic music, after all.
"With most of the business techno dummies out there, it doesn't surprise me. But Sven and Jeff?" wrote Berlin artist Oliver Deutschmann on Facebook. "What is wrong with you guys? Next time at a Taliban private party if the price is right, then? Or maybe a Vatican City after hours?"
"Well all of those DJs suck, but Jeff Mills?" wrote another commentator. "A father of techno music and culture? What happened to him? Does he really need Saudi blood money? Is it really necessary for him?"
Influencer-Washing
MDL Beast is funded by the Kingdom of Saudi Arabia's General Entertainment Authority. Those criticizing the aforementioned artists argue that they participate in something more harmful than simple business with an authoritarian government, though. They find them complicit in a campaign to shift the world's focus away from atrocities committed by Saudi lawmakers.
On top of the Saudi government's long track record of human rights violations such as arbitrary arrests, beheadings, and the outlawing of feminism was the 2018 assassination of journalist Jamal Khashoggi. According to The Guardian, outcry over the incident prompted the country's rulers to invest billions into efforts to rehabilitate its image.
Among them were influencer marketing campaigns designed to frame the country as a tourist destination in exchange for six-figure sums per The Verge. The General Entertainment Authority also financed large-scale live music events that paid artists up to six times their regular booking rates. One such artist was rapper Nicki Minaj, who pulled out of a July 2019 gig following an open letter by the Human Rights Foundation.
The MDL Beast Soundstorm 2021 headliners are not alone in facing recent backlash for accepting what many have deemed "blood money." Billboard reports that earlier in November, the Human Rights Foundation called upon Justin Bieber to cancel his December 5th performance at the Formula One Saudi Arabian Grand Prix.
The Saudi government shows no indication of slowing down in its events industry foray, however. Shortly after COVID-19 was declared a pandemic in 2020, the Saudi government bought $500 million in Live Nation stock that had appreciated to over $1 billion (a 5.7% stake in the company) by February 2021.
Let the People Dance
On the opposite end of the spectrum is an argument that the Saudi people shouldn't be denied music simply because of their authoritarian government.
"Change happens through shared experience. [The Kingdom of Saudi Arabia] will not enter the 21st century if they are blocked out of western culture," one social media commentator wrote. "Yes, bad shit happens there and will continue to, with or without this event. There is more chance for change through engagement than boycott."
Jeff Mills defended his decision by making an analogy in a social media comment of his own.
"In 1979, a German band called Kraftwerk were invited to Detroit to perform at a venue on the east side of the city," he wrote. "There was a huge uproar and protest before and upon their arrival. Many people recognized the military-like uniformity; red shirts with black neckties were connected to Neo Nazis and the extreme right."
He continued: "Luckily they performed because if the protestors had won their way, there would not have been a young, impressionable Juan Atkins in that audience! I'm aware of the human rights issues in SA as I am there, currently in the U.S. But, we never know who might be there in the audience, listening and trying to connect with something greater than ourselves!"
Mills' remarks did little to sway those speaking out against the event, one of whom called his comparison a false equivalence. "Kraftwerk has not been a Nazi band and they have not murdered countless humans for being gay, atheist or opposing the government…" wrote another. "…If Kraftwerk had been a Nazi band and influenced Juan Atkins so profoundly, guess what: I could do without Kraftwerk or Juan Atkins."
None of the other MDL Beast Soundstorm 2021 headliners have made public statements at the time of writing. Spokespeople on behalf of billed artists including Mills, Väth, Cox, Dubfire and Lens as well as the event organizers themselves did not respond to Selector's request for comment.