The cover of Joy Division's classic album Unknown Pleasures has inspired a climate change mural in Manchester.
Designed in 1973 by English artist Peter Savile, the original artwork depicts signals from a radio pulsar in the form of waves. The mural, on the other hand, depicts flatter lines. At the bottom, it reads "No Music on a Dead Planet;" the phrase is part of an overall campaign organized by Music Declares Emergency (MDE).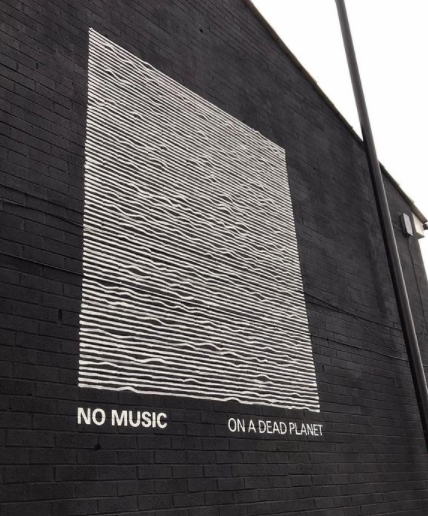 Founded in July 2019, MDE is a coalition of artists and music industry professionals campaigning for "an immediate governmental response to protect life on earth." MDE's mission is to pressure governments into telling the truth about climate change and reach net-zero carbon emissions by the year 2030.
"Who's going to be the first person to tag us in a selfie?" wrote the MDE organizers on their Instagram page. Anyone interested in helping raise awareness by tagging their selfie with the #NoMusicOnADeadPlanet hashtag can find the mural on Moorfield Street in Manchester. It sits across from a mural honoring English football player Marcus Rashford.
The mural was painted by Withington Walls, a community street art project in Manchester. The volunteer-run organization aims to invigorate the Manchester area with high-quality street art along walls and shutters throughout the area.