RAVE SPACE, a Berlin-based virtual club experience, will launch with an event on April 23rd from 7:00 pm to 1:00 am CET. The opening night will see performances by Alex Stein, BEC, DJ Hell, Florian Meindl, and Nakadia. Follow-up events are already planned and will feature Andhim, FJAAK, and Leeroy Thornhill (formerly of The Prodigy), among others.
RAVE SPACE is Berlin's first virtual 3D club. It's fully browser based with no need to install software. Attendees sign up via the homepage for free with the ability to join gatherings strictly during opening hours. Ticket prices range from 5-10€, depending on the event.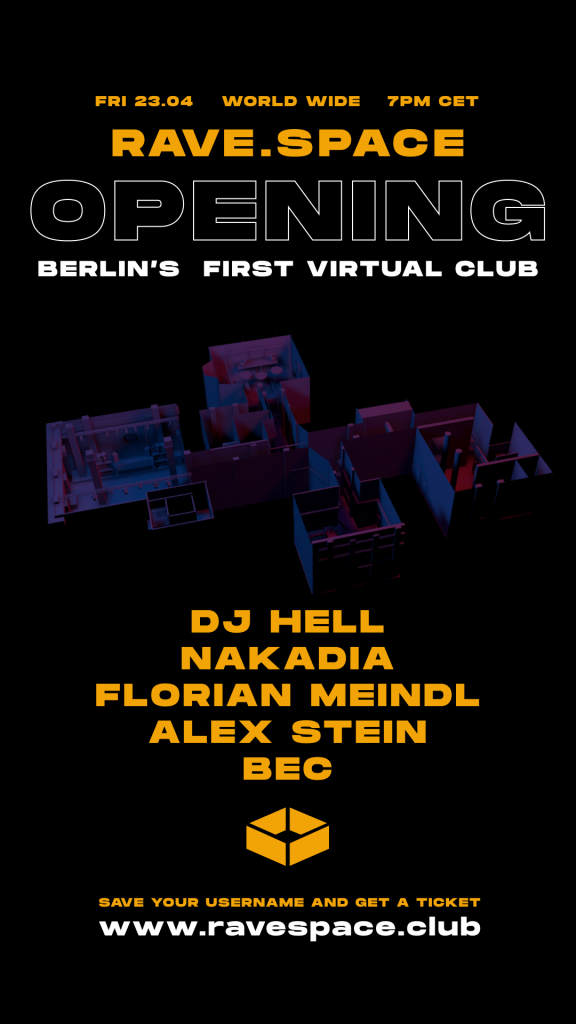 Users can interact with fellow ravers, trigger dance moves, and freely explore the club. Drinks can be purchased at the virtual bar through Ravecoins, an in-app currency. Attendees can even put self-uploaded stickers across the venue that will stay there as long as the hosts don't remove them for technical or aesthetic reasons. 
The club can also be rented, and DJ sets can be recorded at RAVE SPACE Studios. Artists are invited to exhibit works like photography, illustrations, and digital artwork. 3D sculptures, installations, and other kinds of interactive pieces are also possible.
The project is intended to offer like-minded people from around the globe entrance to the Berlin club scene. With COVID-19 as well as Germany's ongoing club drought, it could offer nightlife-starved partygoers a necessary release. 
Tickets and all information can be found through the RAVE SPACE website.