An internal disagreement between the members of Dash Berlin appears to have resulted in the Dutch trio's indefinite disbanding. Frontman Jeffrey Sutorius has shared his own account of the split with the group's fan base, portraying himself as the sole member of the project.
Dash Berlin had canceled a May 30th performance at A State Of Trance 850 in Gilwice, Poland on the grounds of Sutorius' health issues. He was unable to follow through with any tour dates in the time since then. Today, June 18th, he revealed that personal issues between himself, Eelke Kalberg and Sebastian Molijn played a role in the group's breakdown.
Sutorius appears alone onstage at Dash Berlin performances while Kalberg and Molijn act as the managers of the project. The latter two are also commonly listed as members, however, on account that they also produce most of the group's original singles and remixes. In a letter, Sutorius said they were responsible for neglecting his interests, registering the Dash Berlin brand under their own name, and blocking his access to its social media accounts.
Read Jeffrey Sutorius' full statement below.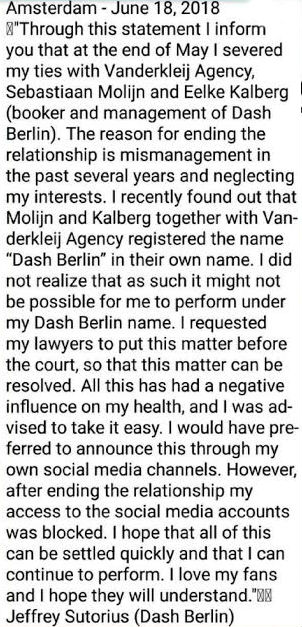 According to Bell Lazaro, who manages the Facebook page We Are Dash Berlin Argentina, Sutorius sent the statement to fans and business associates who inquired about the cancellations in addition to issuing it through a formal press release. He sent it to her via WhatsApp, and she told Selector that a friend of hers had received the same message.
Household Name
Although most of Dash Berlin's fan base may only recognize Jeffrey Sutorius as the face of the brand, they are more than likely familiar with the previous work of Eelke Kalberg and Sebastian Molijn. The two have also produced music for such acts as Candee Jay, Venga Boys, and Alice Deejay. The latter group's 2000 track "Better Off Alone" was one of the first trance records to achieve mainstream U.S. success.
Sutorius also produces music; his first release under the alias Jeff Bounce was a 2006 Tim J collaboration titled "Myhause" that arrived on an EP of its namesake via BPM Legends. He began working with Kalberg and Molijn the same year, and they founded Dash Berlin shortly thereafter.
Dutch trance icon Armin van Buuren included Dash Berlin's 2007 single "Till The Sky Falls Down" on the third edition of his Universal Religion mix compilation series. After the record shot to the top of Beatport's Trance Top 100 Tracks chart, he subsequently signed the group to Armada Music. Trance songs like "Man On The Run" and "Waiting" (both of which came out in 2009) defined the trio's early sound. Approaching the height of the North American festival explosion, they leaned towards a more mainstream EDM style.
Jeffrey Sutorius of Dash Berlin has yet to disclose details of any upcoming legal proceedings. Neither Eelke Kalberg nor Sebastian Molijn have issued a statement of their own at the time of writing.