On February 21st, NKRIOT A.K.A. Kristopher Escajeda made his anticipated Exchange LA debut during last month's installment of Art Battle Los Angeles. Despite his best efforts, his three sets made it clear that his inventive brand of live electronic music is not yet ready for the stage.

To his credit, an impressive amount of work has gone into his show. In addition to repurposing discarded audio equipment to build all the gear he uses onstage (save for his electric guitar), he performs his own music live whereas a DJ plays songs using CDJs and a mixer. With the swagger of a punk rock frontman, he recreates each soundscape using retrofuturistic devices that yield a gritty electroclash sound.

The centerpiece of Escajeda's setup is the "Riot Lab" – a tabletop module housing a keyboard, a frequency modulation synthesizer, an effects processor, and a stereo loop. On one side of the box sits a modified effects pedal that sources audio from his electric guitar. Opposite that, a sampler and vocal processor connects to the microphone in his robotic facemask. In keeping with his mad inventor persona, he encases each piece of equipment in slabs of reflective chrome that liken them to props from an '80s sci-fi film.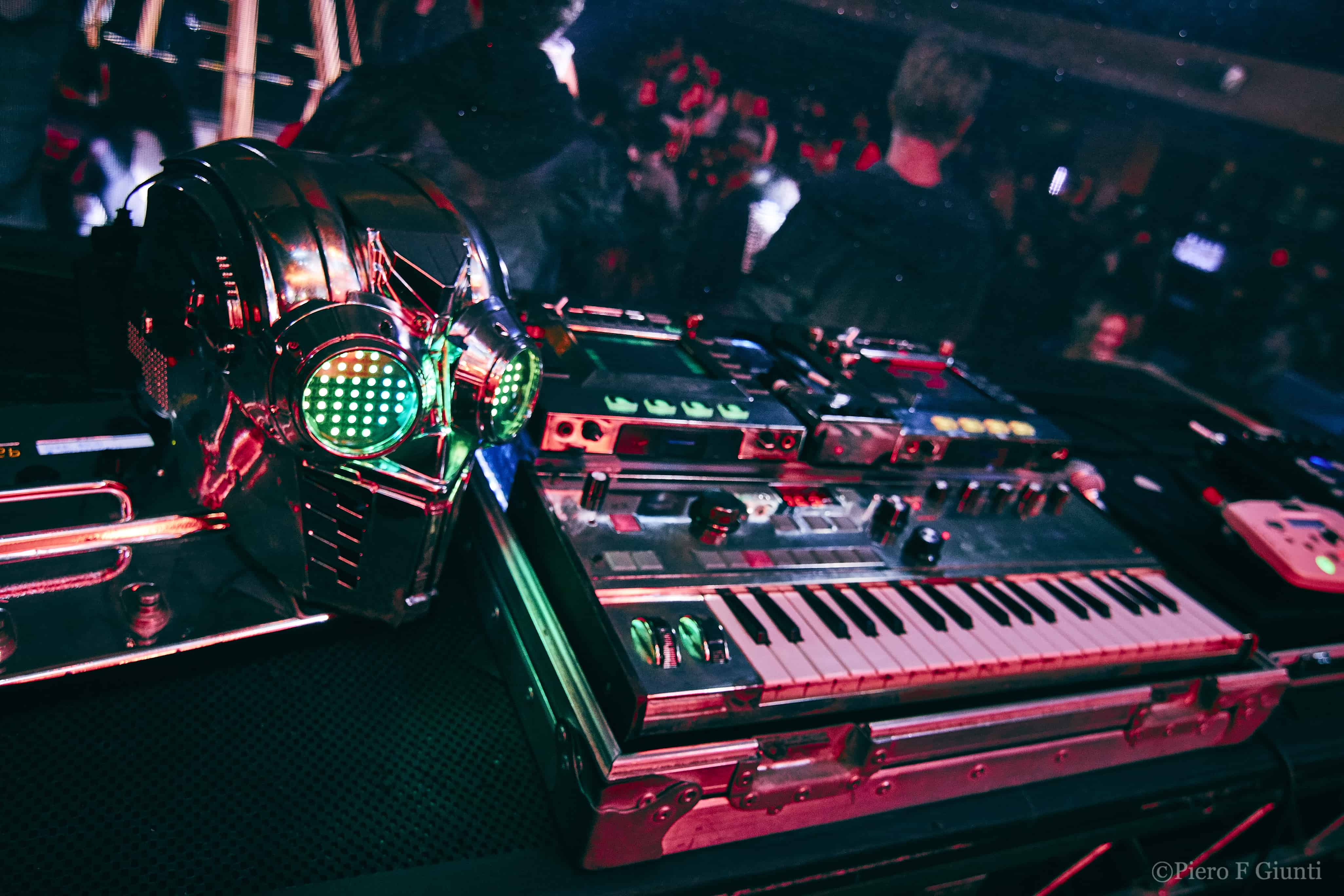 Escajeda said necessity inspired the pursuit more than novelty. "It took over four years," he told Selector during an interview before the night's first performance. "I didn't have a computer at the time so I just said, 'Fuck it.'"
Kristopher Escajeda grew up in Boyle Heights, California, a once crime-riddled area east of Downtown Los Angeles (that ironically faces quite the opposite dilemma as of late). Having lost friends to gang violence during his formative years, he worked with a number of grassroots activist organizations in parallel to his career as a rock and folk musician.
Given his background, it comes as no surprise that Escajeda would seek to assign a deeper meaning to his creative endeavors. He explained that the NKRIOT project is but one component of a greater artistic vision that he calls the GOJI movement, saying:
First it's music, and then it's technology. Basically, repurposing items that were broken and then recreating them. Also cinematography and film, being able to capture something on a very low budget and making it polished and nice. Then, fashion and wearable technology. It's not just a gimmick, it's not just a helmet – it's a piece of hardware that I'm using that actually creates the tone of what I do.
According to Escajeda, other artists have gotten onboard with GOJI as well – although they have yet to embrace its multimedia ethos to the extent that he has. A Los Angeles indie rock band called Dream Clinic (who have enlisted Escajeda to produce their album) fit the bill on account that they repurpose lyrics, and local producer INJUN incorporates traditional Hopi drums into his cacophonous brand of dubstep in the spirit of preserving his culture.
Escajeda has found a unique venue in the Art Battle events, where a collection of local artists compete by painting the best pictures they can in a short span of time. The DIY methodology of GOJI meshes well with Art Battle's focus on the creative process. Contacts in the art community introduced him to the company's founders, Craig Olejnik and Simon Plashkes, and he was already well acquainted with the Los Angeles event's new producer, Dustin Treinen. Being that Exchange LA not only specializes in electronic music events but also actively supports the art movement resurgence taking place in Downtown Los Angeles, NKRIOT seemed a sensible booking.
However, the lack of refinement in Escajeda's finished product became evident on stage.
He started his first set with "REALITY PAGES," the lead single from his 2017 album, RIOT. Once processed live, his crooning topline hinted at the vocal hooks of ringtone rap songs from a decade prior. It contrasted too sharply with the underscoring melody, which called to mind memories of early '80s synth wave.
Songs featuring electric guitar solos showcased Escajeda's keen fretwork, but revealed the shortcomings of his method at the same time. Playing on the Riot Lab forces him to sacrifice the organic timbre of live instrumentals and leaves him unable to compensate for it with the sonic subtlety of more polished electronic music.
Where a skilled disc jockey could gauge crowd response and tailor their set accordingly, his pre-planned setlist hardly fit the event. His lively stage presence only turned the gaze of a scant few attendees, although some admitted that his music distracted them from the rest of the entertainment. Escajeda did improvise the transitions separating each song, but mostly filled the space with atonal noise and excessive stutter effects.
"Everyone is so conditioned to this one sound that they're used to," he said in defense of his music. "Why can't we do something different? It's all so cookie cutter; why can't we push it?"
Even accounting for personal preference, the objective flaws in his sound are too numerous to ignore. In the final masters of several of his official releases, high end frequencies fight over each other for breathing room while static white noise occupies unnecessary space in the dynamic range. His kick drums often clash with his bass lines as well, resulting in muddy low end subsonics.
Escajeda has recently tasked himself with learning to produce music using Ableton Live, which has made an audible difference in his newest material. His third and final set during Art Battle Los Angeles consisted of songs from his upcoming album, Virtual Climax Recording (which is slated for release in May of this year). What improvements could be heard came at the expense of his signature style, however. A cohesion of concept had tied all of his previous work together, but most of the singles he performed before the event drew to a close came across as mimicries of mainstream EDM genres.
Ironically, Escajeda said that "going against the whole EDM realm" underpinned the philosophy behind the NKRIOT project. "If I was going to go head to head with a DJ I could battle him out," he boasted. "Instead of him going to his playlist, I am the playlist."
Perhaps his words themselves shed light on the blind spot keeping his sound from moving forward.
The term "electronic dance music" (EDM) dates back as far as 1985, but was scarcely used until 20 years later. In the late aughts, North American Festival promoters pushed it as a means of distancing themselves from early rave's mired reputation. Although some who actively participated in dance culture prior to the EDM movement adopted the initialism, most of them now associate it with gross commercialization.
If EDM is the only subset of electronic music with which Kristopher Escajeda is well acquainted, it is by no fault of his own that he fails to appreciate its finer points. The house music genre alone has spawned a culture through which musicians from around the world have exchanged techniques and traditions in the 30-some years since its origin.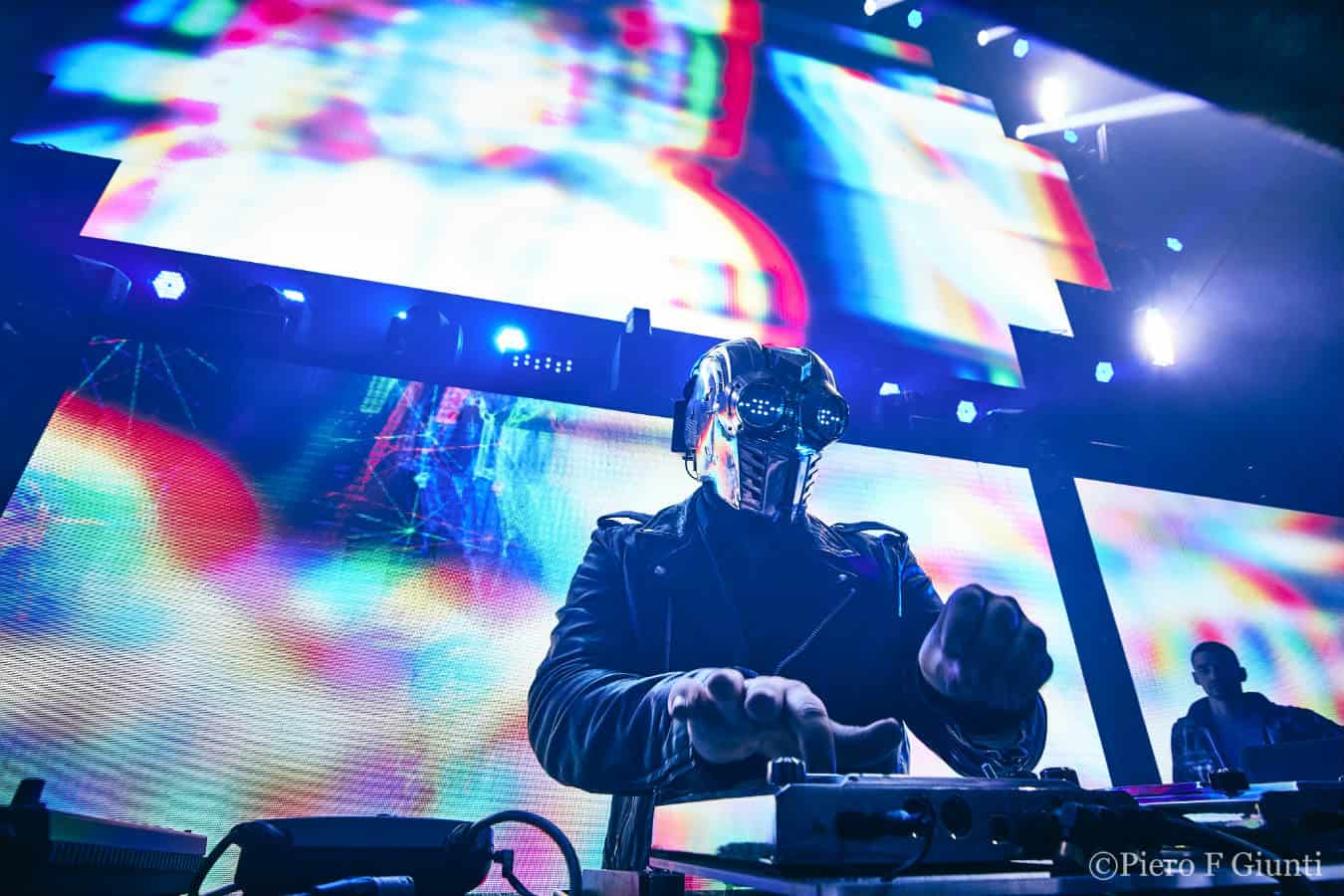 NKRIOT may yet come into its own as a world-class live music stage show. Escajeda's ambition has brought him this far and nothing suggests his efforts cannot grow further yet. The Art Battle Los Angeles organizers stand by him in any case; this Wednesday, March 21st he returned to Exchange LA to perform at the next edition of the series.
For that matter, the GOJI philosophy by no means prohibits Escajeda from tapping into the wealth of knowledge left behind by other electronic music innovators. Just as he repurposed microKORG synthesizers and Line 6 POD HD300 guitar pedals when assembling his onstage equipment, in time he may come to value the collaborative input of tenured DJs and producers.
At its best, dance music fosters a culture of sharing. Nothing prevents NKRIOT from being part of such a global community.
Photo Credit: Piero F. Giunti