Three months ago, Detroit promoter Paxahau postponed Movement Electronic Music Festival to September 11th-13th. With Stateside COVID-19 cases continuing to rise, however, a 2020 festival is no longer an option. Organizers have rescheduled Movement for May 29th-31st, 2021 and shared the first lineup teaser.
Carl Craig, Seth Troxler and Richie Hawtin are among the acts who will take to the stage at Hart Plaza next Memorial Day Weekend. Drum and bass figurehead Goldie will perform back to back with LTJ Bukem for a set featuring emcee DRS. Paxahau will announce additional headliners in the months leading up to the event.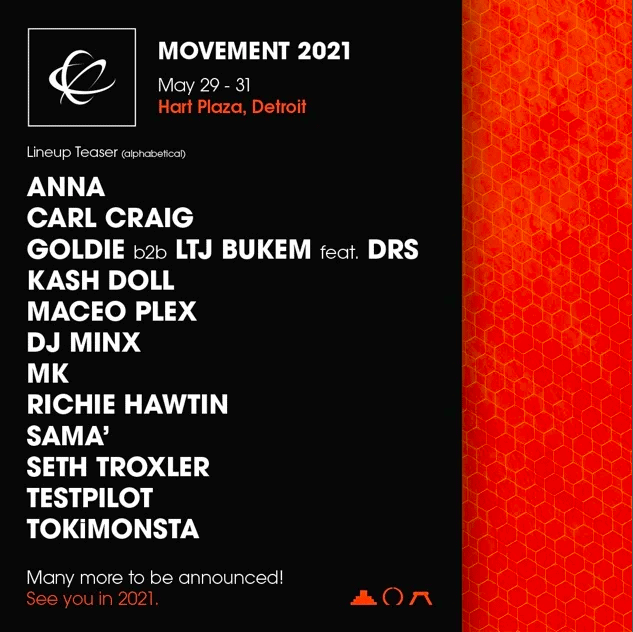 From DEMF to Movement
Although an iconic fixture of the Motor City's electronic music community, Movement has assumed many different forms. The 2000 debut edition was billed as Detroit Electronic Music Festival, and it rebranded as Focus Detroit Electronic Music Festival in 2001 as part of a sponsorship with Ford Motor Company. After a financially tumultuous string of annual events, Paxahau assumed control in 2006 and branded it as some variation of "Movement" thereafter.
Movement was by no means the only festival called off amid COVID-19 concerns. Burning Man, Coachella Valley Music & Arts Festival, Awakenings and Ultra Music Festival were but a few of the bigger event brands to postpone as the pandemic unfolded.
Find additional information on the Movement Electronic Music Festival website.