Two months ago, Detroit promoter Paxahau rescheduled Movement Electronic Music Festival on account of COVID-19 restrictions. While the techno/house gathering's new September dates remain dubious, fans can enjoy a live stream event called Movement At Home from May 23rd-25th.
Detroit staples like Carl Craig, DJ Godfather and Ataxia are among the 25 acts on the Movement At Home lineup. Other homegrown billings include a live set by Uun and a back-to-back set between Kevin Saunderson and Dantiez. Notables lik Drumcell, Truncate and Hiroko Yamamura are also on the bill. More names will be announced leading up to the event.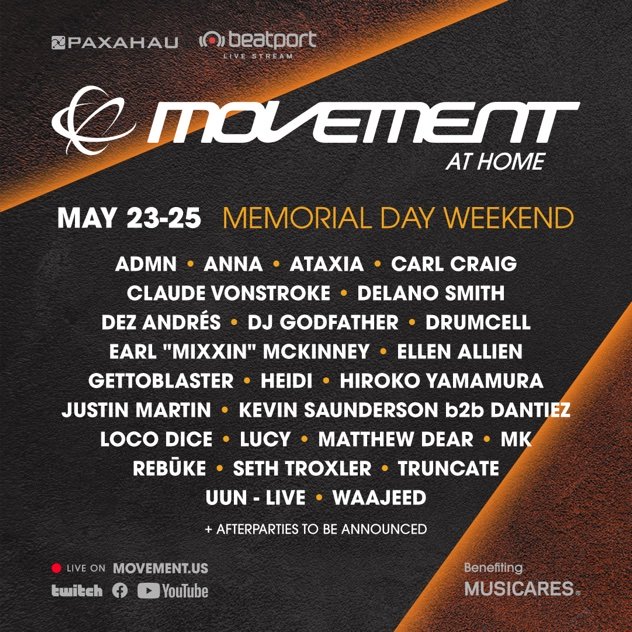 Frantic Movement
Movement Electronic Music Festival was one event brand of many to reschedule their 2020 gathering as the escalating COVID-19 pandemic caused a festival crash. Ultra Music Festival was the first of its size to cancel in March, followed shortly thereafter by South by Southwest and Coachella Valley Music & Arts Festival. The next month Burning Man and Awakenings Festival called off their events as well, with Kappa FuturFestival and Primavera Sound following suit in May.
Although Italy was the country hit hardest by COVID-19 two months ago, it will allow live music events to take place in a limited capacity starting June 15th per Mixmag. In markets like the U.K., restrictions threaten the financial viability of 92% of independent gatherings according to the Association of Independent Festivals.
Movement At Home will be streamed via the Movement Electronic Music Festival website.